cW4k water in cans selected by Carter Work Project for first-ever plastic bottle-free build.
The recent 2019 Jimmy & Rosalynn Carter Work Project held in Nashville, TN, marked the 36th year that the former President and First Lady have built alongside volunteers and future Habitat homeowners. It also marked the first plastic-free build for the volunteer base where water for the 700 daily volunteers was provided by CannedWater4Kids. The President and Mrs. Carter were joined by Garth Brooks and Trisha Yearwood, singer/songwriter Eric Paslay, and his wife Natalie, Suzy Bogguss, Riders in Sky, Mark Wills, Don Schlitz, NHL Predators and Titans Rookie class players to spotlight the need for safe and affordable housing. The approximate 700 volunteers a day over five days worked side by side to build 21 Habitat for Humanity homes. Together, they built roofs, walls and a strengthened sense of community.
"Finding a way to hydrate 700 people every day, while stepping up our commitment to sustainability was one of the most challenging logistics I faced on the 2019 Jimmy & Rosalynn Carter Work Project build site," said Sherry Stinson, Nashville Carter Work Project lead. "When I heard we could source canned water from CannedWater4kids (CW4K), a non-profit with a mission to fund sustainable water projects in developing countries through its canned water sales, I knew it was a great fit. In turn, this Carter Work Project was able to offer aluminum canned water to its volunteer base and not plastic water bottles while helping to fund clean water initiatives. And, everyone said the water tasted great!"
The CW4K canned water was donated to the build by Atlanta-based Novelis, the global leader in flat-rolled aluminum products and the world's largest recycler of aluminum. "Our volunteers enjoyed drinking water with such a worthy purpose, and we are grateful to Novelis for the collaboration which has allowed us to reflect environmental stewardship by providing beverages in packaging that can be infinitely recycled."
"Our partnerships with both Habitat for Humanity and CW4K align seamlessly with our company's purpose of shaping a sustainable world together,," said Ashley Gravlee, Novelis Manager, Corporate Social Responsibility. "At a time when single-use plastics are overflowing our landfills and hundreds of millions of PET bottles are washing up on our shorelines, we have an obligation to promote aluminum as the model of sustainable packaging for bottled water and other beverages.
"It was an honor to have our water selected to be a part of this iconic build," said Greg Stromberg, CW4K founder, and CEO. "We refer to our water as 'Drinking water – with a purpose.' That's because it keeps you hydrated, it tastes great, and 95% of all revenue generated through our can sales funds & delivers sustainable clean drinking water programs worldwide."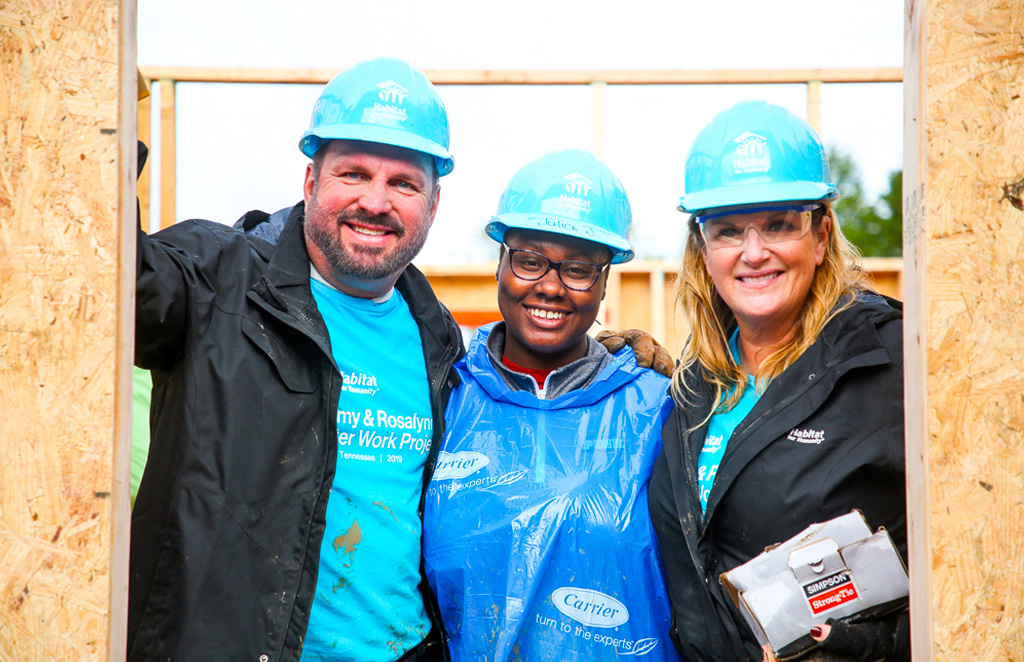 Garth Brooks and Trisha Yearwood  with habitat homeowner, Julica Jennings. Garth and Trisha worked on Julica's home during the build.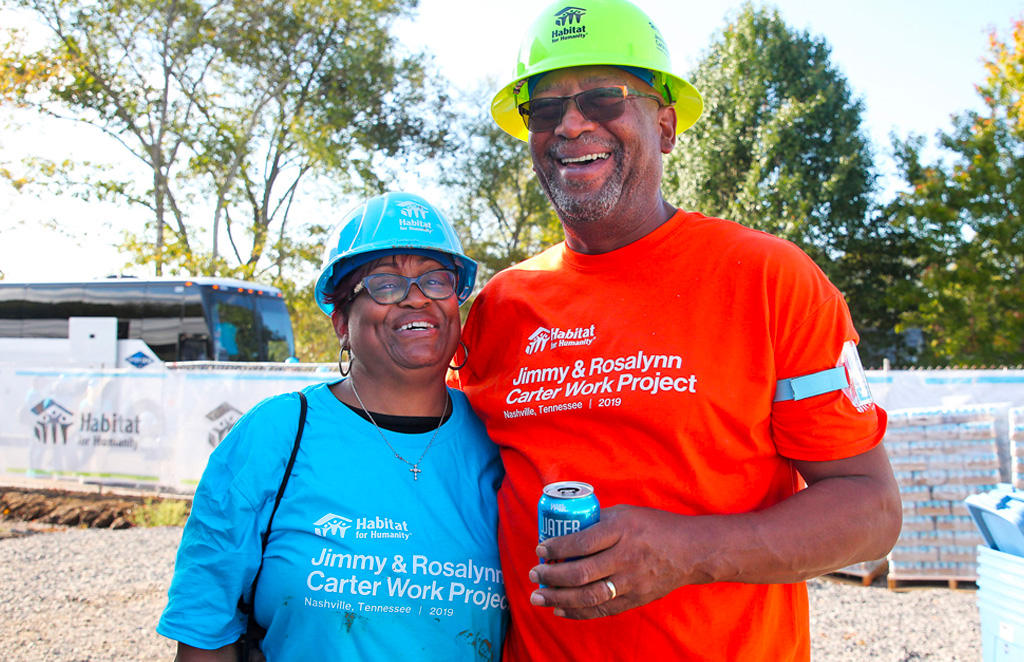 Longtime Habitat Nashville Construction leader, Johnny Reynolds with a CWP volunteer drinking CW4K canned water.
About CannedWater4Kids
CannedWater4Kids is a 501c3 nonprofit based in Sussex, WI. The organization's purpose is to ensure all children have access to sustainable clean, safe drinking water. CW4K funds its initiatives with cash donations, grants, and through the sale of their premium drinking water in aluminum bottles and cans.
Quick Stats:
Cw4k – 501c3 nonprofit was established in 2008
They've funded and provided 35 sustainable wells and water purification systems
Have supplied the Red Cross and others with over 3.5 million cans of emergency relief drinking water
Ninety-five cents of every dollar collected by CW4k from the sale of their drinking water in cans goes to support clean water projects and education
Cw4k estimates that the sale of their drinking water in aluminum bottles and cans has kept over 5 million plastic bottles our of our oceans, lakes, and landfills.
Available in 16oz aluminum bottles and 12oz cans, CW4K premium drinking water is perfect for home, boardroom, office meetings, school, hospitality, or vending.
Projects include assisting the University of Wisconsin – Milwaukee's Engineers Without Borders in bringing sustainable water purification solutions to the highlands of Guatemala, and support for well/water tank and Bio Sand Filter projects in Zambia, Kenya, and Tanzania, Africa. Recent disaster and hurricane –relief efforts include the sending of truckloads of canned drinking water to Michigan, Texas, Florida, and Puerto Rico. To learn more, visit CannedWater4kids.org
About Habitat for Humanity
Driven by the vision that everyone needs a decent place to live, Habitat for Humanity began in 1976 as a grassroots effort on a community farm in southern Georgia. The Christian housing organization has since grown to become a leading global nonprofit working in local communities across all 50 states in the U.S. and more than 70 countries. Families and individuals in need of a hand up partner with Habitat for Humanity to build or improve a place they can call home. Habitat homeowners help build their own homes alongside volunteers and pay an affordable mortgage. Through financial support, volunteering, or adding a voice to support affordable housing, everyone can help families achieve the strength, stability, and self-reliance they need to build better lives for themselves. Through shelter, we empower. To learn more, visit habitat.org.
About Novelis
Novelis Inc. is driven by its purpose to shape a sustainable world together. As a global leader in innovative products and services and the world's largest recycler of aluminum, we partner with customers in the automotive, beverage can and specialties industries to deliver solutions that maximize the benefits of sustainable lightweight aluminum throughout North America, Europe, Asia, and South America. The company is headquartered in Atlanta, Georgia, operates 23 facilities in 9 countries, has approximately 11,000 employees and recorded $12.3 billion in revenue for its 2019 fiscal year. Novelis is a subsidiary of Hindalco Industries Limited, an industry leader in aluminum and copper, and metals flagship company of the Aditya Birla Group, a multinational conglomerate based in Mumbai, India. For more information, visit novelis.com