Happy Bellies Bake Shop, has announced that it has added CannedWater4kids (CW4K)canned drinking water to its beverage selection.
Established in 2011, the bakery has quickly become known for their made-from-scratch sweet options that are free from gluten, food dyes, GMOs and artificial ingredients. They also provide selections for those allergic to eggs and dairy, and have grain-free/refined sugar-free options too.
Often, one thinks that "healthy" baking and deliciousness do not go together. Happy Bellies Bake Shop proves the critics wrong every time. From cookies to their signature muffins, cupcakes, doughnuts and cakes, one bite is all it takes to become a believer.
"All of our baked goods are made from SCRATCH, which seems to be a rarity these days", said Rebecca Brown, Owner, Happy Bellies bake Shop. "Our Non-GMO flour blends are created here, we use ingredients like REAL carrots, organic coconut oil, cage free eggs…heck, the red for our red velvet items are achieved using BEETS! What we do is so fun and extremely rewarding, in many ways – it's hard work and it takes longer than using box mixes (yes, some places actually do that!!), but the end result is absolutely worth it. Only the best ingredients make the best products and we wouldn't have it any other way".
"We are excited to have Happy Bellies Bake Shop as a supporter. Every time you buy & drink our premium water, you are making a difference," said Greg Stromberg, CW4K founder, and CEO. "We call our water 'Drinking water – with a purpose.' That's because it keeps you hydrated, it tastes great, and 95% of all money collected by CW4K from the sale of this water goes to help fund & deliver sustainable clean drinking water programs worldwide."
"We are pleased to welcome CW4K canned water to our store," added Rebecca. "Drinking water is a product that people need and want. CW4K helps us eliminate plastic water bottles and provides our customers with great-tasting water and knowing that every purchase helps to make a difference in the world."
Already available at several upscale hotels, like the Ritz-Carlton, Laguna Niguel in California and Radisson Red in Minneapolis, MN. CW4K premium drinking water is also available when visiting America's national parks like Yosemite, Yellowstone, Denali, Olympic and Mesa Verde.
Available in 12oz cans and 16oz aluminum bottles, CW4K premium drinking water is perfect for home, boardroom, office meetings, school, hospitality, or vending.
Happy Bellies becomes the first bakery to add our canned drinking water to their menu.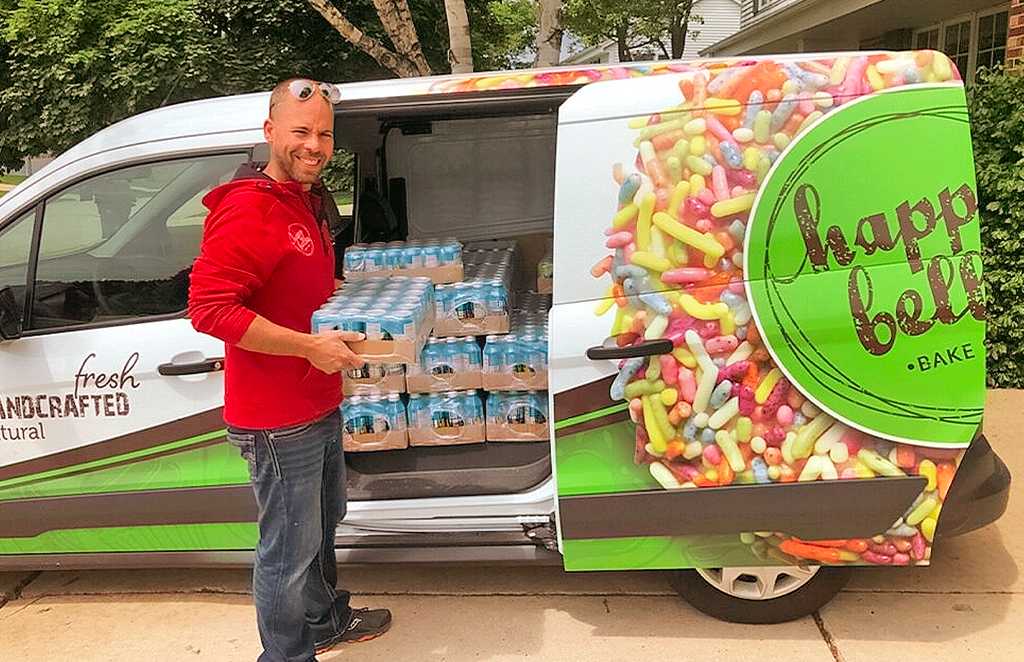 Al Reis of Happy Bellies Bakery loads aluminum bottles of cw4k drinking water into van.
About CannedWater4Kids
CannedWater4Kids is a 501c3 nonprofit based in Sussex, WI. The organization's purpose is to ensure all children have access to sustainable clean, safe drinking water. CW4K funds its initiatives with cash donations, grants, and through the sale of their premium drinking water in aluminum bottles and cans.
Quick Stats:
Cw4k – 501c3 nonprofit was established in 2008
They've funded and provided 35 sustainable wells and water purification systems
Have supplied the Red Cross and others with over 3.5 million cans of emergency relief drinking water
Ninety-five cents of every dollar collected by CW4k from the sale of their drinking water in cans goes to support clean water projects and education
Cw4k estimates that the sale of their drinking water in aluminum bottles and cans has kept over 5 million plastic bottles our of our oceans, lakes, and landfills.
Available in 16oz aluminum bottles and 12oz cans, CW4K premium drinking water is perfect for home, boardroom, office meetings, school, hospitality, or vending.
Projects include assisting the University of Wisconsin – Milwaukee's Engineers Without Borders in bringing sustainable water purification solutions to the highlands of Guatemala, and support for well/water tank and Bio Sand Filter projects in Zambia, Kenya, and Tanzania, Africa. Recent disaster and hurricane –relief efforts include the sending of truckloads of canned drinking water to Michigan, Texas, Florida, and Puerto Rico. To learn more, visit CannedWater4kids.org
About Happy Bellies Bake Shop
Happy Bellies Bake Shop is a family-owned bakery chain based in Appleton, Wisconsin. Founded in 2011, the bakery is known for their made-from-scratch sweet options that are free from gluten, eggs, dairy, food dyes, grains and refined sugar. To learn more, visit www.happybelliesbakeshop.com