Most items used as fundraisers are able to raise money, but few have the ability to raise money and give back to society.
CannedWater4kids.org (CW4K) offers one of those special items – canned drinking water. Each sale provides funds for groups doing the fundraising as well as funds that support clean drinking water projects worldwide.
"Our kids were excited to learn that every can they sold not only earned the school money, but also helped provide clean drinking water to children worldwide who have none," said Kori Hartman, Principal of Swanson Elementary whose school recently completed their appeal for funds. "This fundraiser mirrored our school values in promoting peace, empathy and compassion."
"Water Wednesdays" became a weekly fundraising event where the school sold CW4K canned drinking water during lunch on Wednesdays during the second half of the school year. After each lunch, students had the opportunity to collect and save the empty cans for recycling. Not only was this good for the environment, but it also provided an opportunity for the school to raise even more money.
"When used as a fundraiser, we see our canned drinking water sales as kids helping kids," said Greg Stromberg, CW4K Founder & CEO. "CW4K is more than just another fundraising item. Every sale also helps fund projects that bring clean, safe drinking water to children worldwide."
"CW4K canned drinking water is the perfect alternative for those tired of the usual candy bar and cookie fundraisers," said Peter Gorman, CW4K Board Member and CMO. "We introduced our fundraising program in January of 2018. The quick success of Swanson Elementary has us excited about the potential of CW4K in the fundraising space."
CW4K canned drinking water could be the fundraising program that so many clubs and organizations have been waiting for. Call CannedWater4kids today at 262-246-8480 and see what CW4K can do for you.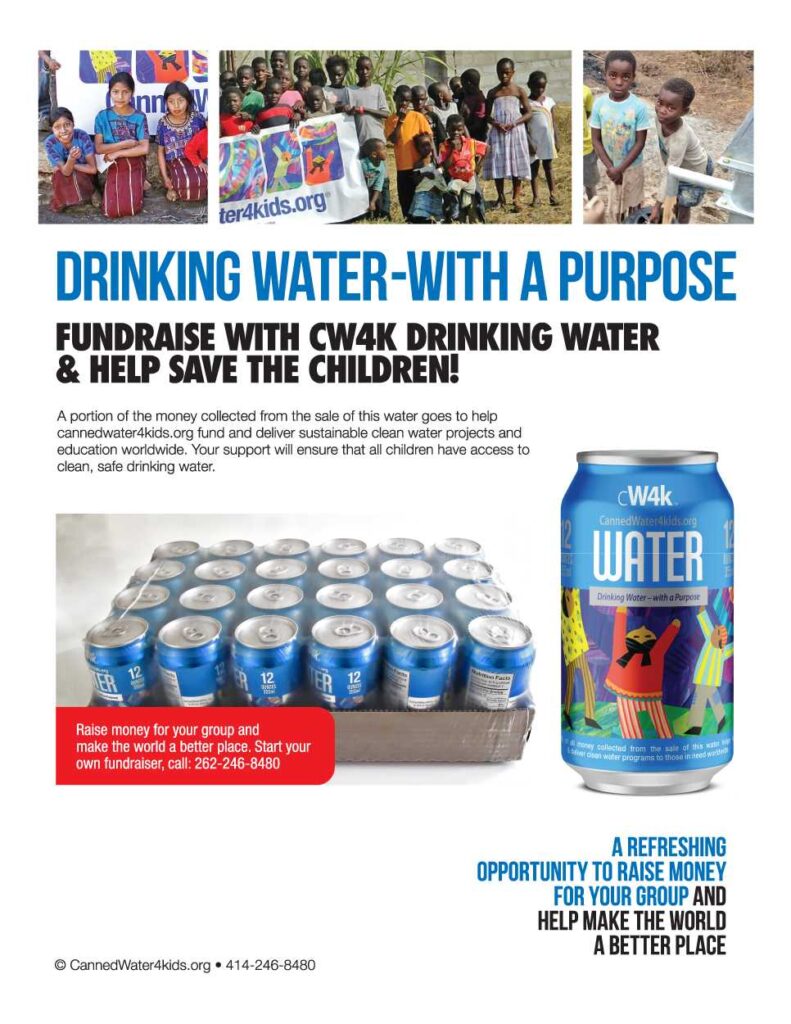 About CannedWater4kids
CannedWater4Kids (cW4k) is a 501(c)(3) charity based in Sussex, WI. The organization's purpose is to ensure all children have access to sustainable, clean, safe drinking water. cW4k funds its initiatives with cash donations, grants, and through the North American sales of their premium drinking water in aluminum cans and bottles. Ninety-five cents of every dollar collected goes to support, fund, and deliver clean water programs. Projects include assisting the University of Wisconsin – Milwaukee's Engineers Without Borders in bringing sustainable water purification solutions to the highlands of Guatemala, and support for well/water tank and Bio Sand Filter projects in Zambia, Kenya, and Tanzania, Africa. Recent disaster and hurricane -relief efforts include the sending of truckloads of canned drinking water to Michigan, Texas, Florida, and Puerto Rico. To learn more, visit 
https://www.cannedwater4kids.org

About Swanson Elementary 
Swanson Elementary is located in Brookfield, WI and is part of the Elmbrook School District. The school follows a "PEACE" model – promoting peace, empathy, and compassion everywhere with the goal of creating an overall climate that is comfortable, happy, safe and productive for all learners. Staff members are known for their providing of individual support to each student based on their unique skills and needs. Specialized programs & services offered include: Math & Reading Learning Support, English Language Learners Program, Physical & Occupational Therapy, Special Education Services as well as a Gifted & Talented Program. Visit Swanson Elementary online: https://www.elmbrookschools.org/swanson-elementary-school